Think your deck is damage proof because it is new? Think again Even pressure treated wood begins to deteriorate in less than a week if left untreated.
Pressure treated wood is highly resistant to vermin and rot, but is still vulnerable to extreme climates. The decks need year-round protection from the sun's rays, rain, mold and rot. To protect your deck, try these tips:
The preparation: if your deck needs a new look, it will have to be prepared and treated first. To decide where to start, perform the water test. Splash a few drops of water on several areas of your deck. If the droplets are absorbed by the wood, it is ready for cleaning . If the water slips, you will have to remove the existing waterproofer. Apply a product such as the Ultra Deck stain Remover to remove previous layers of oil and latex finishes. After the waterproofer is removed, replace any damaged gasket on the deck and re-paste loose boards before cleaning.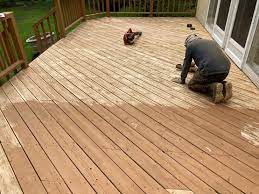 Cleaning: to make sure that the treatment or waterproofing you apply is more effective, you will need to remove any dirt, algae, mold or other materials first. Staining or sealing a dirty wood surface can cause premature failure of stain protection, and materials trapped under the finish or waterproofing can continue to damage the wood.
A cleaner such as the Aquadeck Cleaner will let you rinse dirt and mold, leaving the wood ready for protection. If flowers surround your deck , consider using a softer formula, such as the Ultra Deck by Intergram