The end is nigh.
Don't get us wrong, we very much hope it's not. But we say it like we see it. With the direction the construction industry seems to be taking, it seems a tad difficult to ride this natural abuse out.
Still, the good news is that there are countless like-minded sustainability advocates like us who understand the gravity of the situation and have taken matters into their own hands. Okay, we'll jump off the mystery wagon now and give it to you straight.
Wood is the one-stop port we have been looking for in this storm, and its more refined form – structural timber – is the answer to all our construction woes until now. More and more use of mass timber in constructing buildings, both residential and commercial, is the ticket to reduced carbon emissions, less toxic waste, and pollution.
Luckily, the Danish Architects 3XN and Swiss studio Itten+Brechnbühl agree. A grand, new design has been proposed for a Switzerland based university called 'Ecotrope.' The word is a shortened form of 'Ecole Polytechnique Fédérale de Lausanne in Switzerland' and, you guessed it right, the construction of this university will be largely based around timber.
Its impressive campus spans a massive 250,000 square metres and will have 10 buildings, probably on the higher side of that number.
Everything from the conference rooms, offices, to dining halls will be a part of the "responsible construction" campaign that the architects have in mind and so the main material would be wood.
The main entrance to the campus occupies the southeast corner of the plot. This place will serve as a focal point for locals. From here the paths and open natural areas lead to a cluster of timber buildings laid out in a grid pattern.
Specifications of the Layout
The gigantic structure is supported by V-shaped timber columns and has enormous windows that run the whole height of the structures. The skylights and wooden grids let in plenty of natural light.
The new campus will be connected to the remainder of the innovation park, which is about a kilometre away via green pedestrian routes.
Timber was selected for this project because of its low carbon footprint, not to mention it's long-lasting, and looks aesthetically pleasing. The wood used in the construction makes the interior cosy and inviting.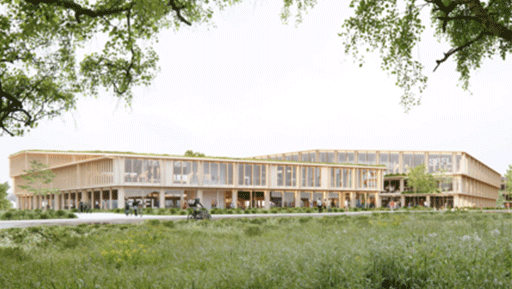 ''Spatially, both the masterplan and the main building are designed so that people will meet each other, creating a vibrant and lively community feeling," said Ammundsen.
In addition to implementing biophilic design concepts, both companies planned to host conferences that would bring together experts from a variety of disciplines.
An Opportunity To Experience Nature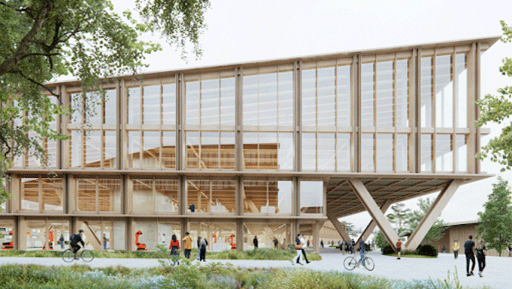 The firm's main goal was to create environments where people may freely interact with nature. Connecting it to various portions of campus are green pedestrian pathways.
Ursula Oesterle, vice president for innovation at the Ecole Polytechnique Fédérale de Lausanne (EPFL), has said that modern firms are keen on innovation, with both startups and more established organisations looking for a forum in which to pool resources and ideas. As part of the plan, a sustainable transportation network connecting the two nodes will be incorporated.
The designers are optimistic about the project's potential long-term benefits to society. "Ecotope will be a campus that facilitates and generates disruptive innovative solutions by being the interface between EPFL and society at large,'' he adds.
It is anticipated that work on this project will begin in 2023.