What seems to be all the rage in the modern 21st century was actually conceptualised decades ago. You can almost say that the A-frame, prefab (no matter what you want to call it) is getting its renaissance due in this day and age. 
Marvellous how the minimalist shape that was borne out of necessity back in the day is creative fodder for architects today. Any port in a storm, we guess! The storm in question is the drive to build more sustainable houses, live more simplistically and allow nature to breathe and thrive for a change. 
Well, we are all for that! So in a similar sustainable spirit, today we bring you some of the most innovative prefab designs that'll fire up your inner architect and have you planning a prefab home of your own. After all, it's self-build season and anything goes! 
1. Koto Design x Adobu's prefab home
Remember one of those lazy, well-spend beach days you spent during the summer holidays? Well, this Scandinavian inspired architecture studio captures that vibe perfectly. With just the right hint of Japanese minimalism and English elegance, it is the perfect mix of bright and breezy. 
What makes it significant?
Architecture Studio Koto Design and Adobu, a renowned US based home-building company, joined their efforts to build this marvellous prefab home that's not only exquisitely designed but can be transported across the globe! 
As they say, much cattle, much care. Well, with this house, your worry list is reduced to almost non-existent. 
Noteworthy Points
Promotes a simpler lifestyle

Carbon-neutral construction

Enjoy an off-grid retreat
2. Prefab VRC Gazebo
One of BeautexWood's most pleasing Pune projects included this stunning, sturdy and extremely aesthetic prefabricated Gazebo. Glued Laminated Beams were employed to hold the whole structure upright and to add a natural charm to the structure. It's built with sustainably sourced wood suitable for tropical climate, to withstand climatic changes while retaining its charm. 
What makes it significant?
Since the gazebo was an integral part of the overall outdoor decor, it was meticulously crafted offsite, with a strict attention to detail. The upper portion and the bottom part of the prefabricated structure was then shipped to the client's site, and assembled under supervision.
Noteworthy Points
Built using timber from sustainably managed forests.

The whole structure was prefabricated.

Significantly lowers the CO2 footprint. 
3. iHouse
70 days. That's all the time iHouse was given to build a house from scratch. But it was more than enough for this Montevideo-based architecture firm to construct a prefab home for Conrado on his ancestral property. 
The building of this home was nothing short of a greek drama, with all the construction taking place off-site. When it came to installation onsite in Colonia, iHouse took just 5 days to erect Casa ZGZ where it belonged. 
What makes it significant?
The whole team at iHouse came together to build a house that contained hints of modernity while preserving the region's historical architecture out of respect. This gave birth to a cabin clad in black exterior, that acts as a camouflage. 
Noteworthy Points
Built using Forest Stewardship Council certified wood. 

Off-site construction in two modules

A harmonious structure.
4. Bhilwara Gazebo
This project is a study in masterful, detail-oriented work to put together to form this wonderful gazebo that elevated the aesthetics of the outer decor of the property. The whole structure was built offsite. Once completed, the separate parts were thoroughly checked for the tensile strength, followed by a quick installation of the structure on site.
What makes it significant?
The gazebo's exposed framework made the on-site installation significantly easier. The whole prefab structure was built in keeping with the client's decor and it instantly lifted the mood of the surroundings.
Noteworthy Points
An all wood roofing structure

Built using timber from sustainably managed forests

The whole structure was prefabricated.
5. The Hithe
Prefabricated. Demountable. Chic. 'The Hithe' checks all the boxes while maintaining a classic poise. This Albion Street based, prefab home spans 200 square metres. It's covered in varying shades of green, consisting of five modules, all constructed off site.The assembly took place on Albion, a classic example of the ease with which prefabricated homes endow the owners with. 
What makes it significant? 
The Hithe is further divided into ten micro studios, all completely accessible from outside which significantly reduces the commotion inside the building. 
Noteworthy Points
Completely demountable

Can easily be relocated

Aims at bringing the community together
6. Weathertex – Reserve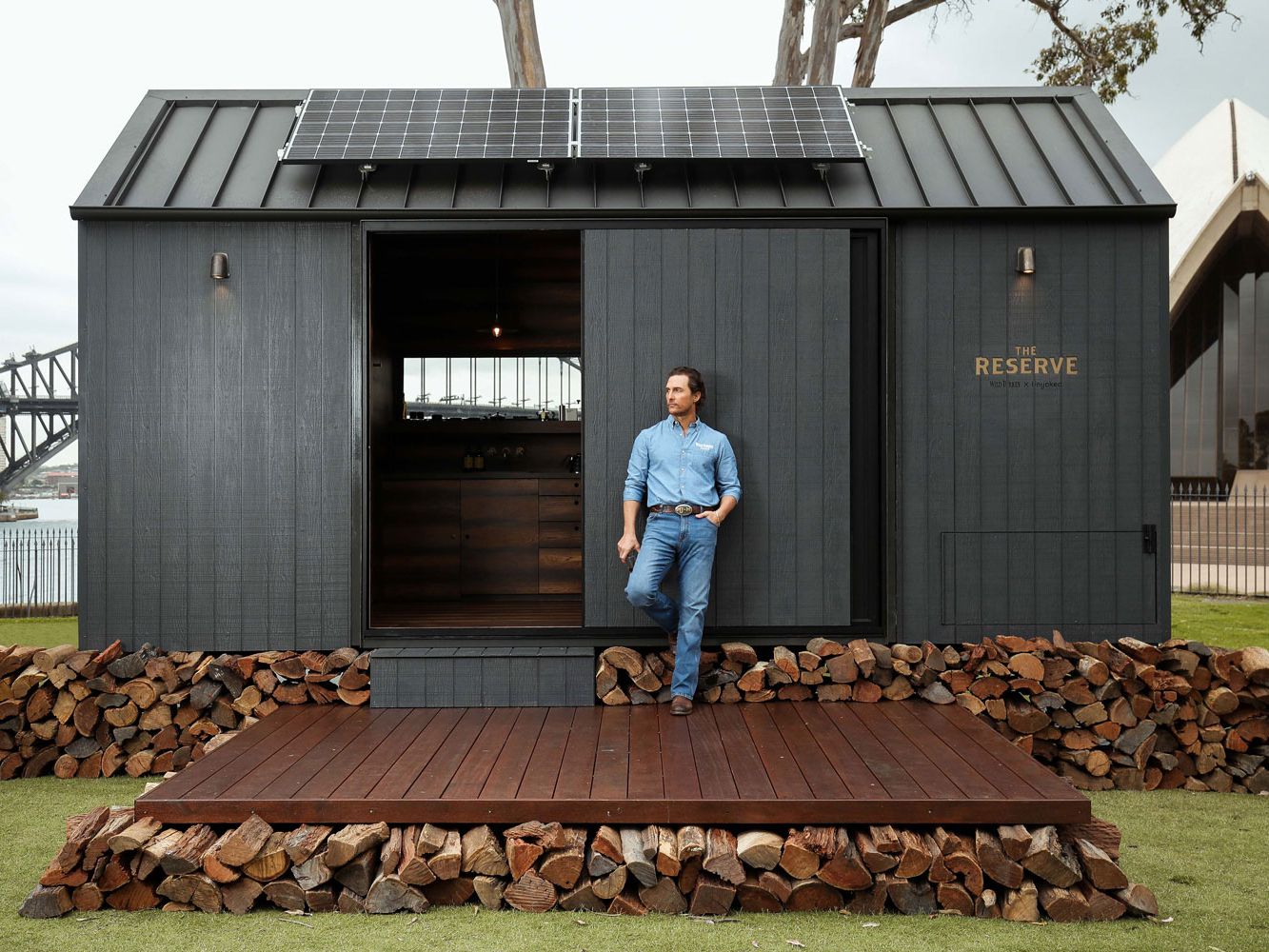 The Oscar-winning actor, Matthew McConaughey, collaborated with tiny house startup Unyoked to build this charming, off-grid cabin. Weathertex products were used to bring his vision to life. The actor added some personal touches to the interior to make it more homely and inviting. The cabin is part of a bigger effort to encourage people to "reconnect with the wild" while simultaneously safeguarding the environment.
What makes it significant?
Although the main intention behind building it was to help people spend some time in nature for rejuvenation of the body and the mind, it's incredible how the actor set up a part of the proceeds from all reservations done for the Reserve to be donated to the Association for National Parks & Wildlife.
Noteworthy Points
No Wi-Fi Access 

Solar-Powered

Ancient Cassette Sound System
7. The Amagansett Modular house
Built using four shipping containers stacked one atop the other, creativity takes a mile-high plunge with this modular home! The Amagansett House is the very definition of elegance made sustainable. And while this home spreading across 1,800-square-foot can't very well be called "tiny", we have to admit the model is very impressive indeed. 
What makes it significant?

This beautiful house made use of unused containers and created the least amount of construction waste possible. Just that is enough to mark it as significant in our books. But let's take it notch higher with the fact that this prefab home is not only extremely durable but inexpensive as well, as compared to the usual building materials. 
Noteworthy Points

Custom-designed for a family of 4

Easily scalable

Cantilevered Structure
8. Cube One
This AI-enabled, futuristic prefabricated home lives up to its name, Cube One, with only taking up 156-square-foot worth of space making it an ideal option for practically everyone. It is pre-equipped with voice controlled tech and built-in furnishings. 
That's not all, its exterior lends an visionary touch to the structure which, coincidentally, aligns with its features. 
What makes it significant?

From controllable LED Lighting to air conditioning, galvanised steel shell for protection from extreme weather conditions, Cube One is a complete package. It also comes with add-ons! It's your own personal Rubik's Cube to play around with. 
Noteworthy Points

Sustainably built using recycled materials

All-weather protection

Fully customizable