'Freebooter,' a brand-new pre-fabricated building with a parametric louvred facade, was recently finished by the GG-loop studio in Amsterdam. It's home to two separate residences and was designed to be easily transported.
The architecture of the building is inspired by Dutch maritime history, more specifically by the Freebooters, the historical figures who organised independent sailing crews to set sail across the ocean in search of new lands and exciting new adventures.
The fearless nature of the Freebooters served as a source of motivation for the design, which ventures into uncharted territory in terms of design.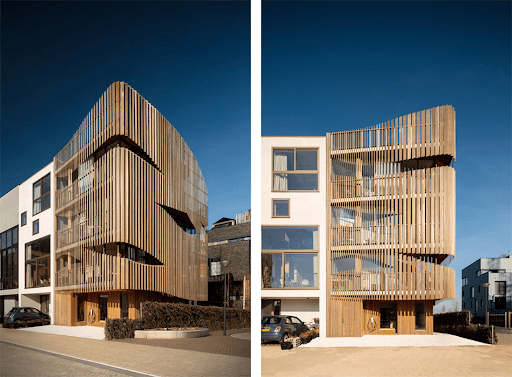 The movement of the sun throughout the year was analysed by the designers so that they could create the parametric shape of the building's louvres and position them appropriately.
By angling the louvres in specific directions, they are able to control the amount of natural light that enters the apartments while still maintaining the necessary level of privacy for those who live there.
Western red cedar, pine, and steel were the primary materials used in the construction of each apartment unit throughout the development, which was entirely constructed using prefabricated components right down to the tiniest of details.
This combination of components also makes reference to components used in the construction of ships, which is yet another reference to the valorous past that makes us fall in love with this building a little bit more!